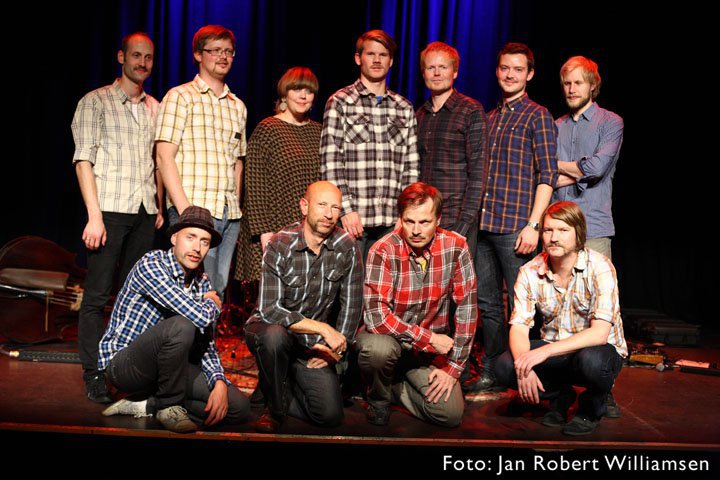 Trondheim Jazz orchestra w/Eirik Hegdal: Wood & Water
EIRIK HEGDAL - composer, saxophone, leader
SIRI GJÆRE - vocal, lyrics
ERIK JOHANNESSEN - trombone
ESPEN REINERTSEN - saxophone, clarinet
ANDRÈ ROLIGHETEN - saxophone
NJÅL ØLNES - saxophone
PETTER VÅGAN - guitar
OLE MORTEN VÅGAN - bass
DANIEL FORMO - keyboards
TOR HAUGERUD - drums
TOR BREIVIK - sound engineer
Trondheim Jazz Orchestra is one of the most important and creative jazz ensembles in Norway. During the course of the last seventeen years, the orchestra has had a great number of exciting projects with norwegian and international jazz profiles such as Chick Corea, Pat Metheny, Joshua Redman, Erlend Skomsvoll, Eirik Hegdal, Sofia Jernberg, Maria Kannegaard, Kim Myhr, Jenny Hval, Stian Westerhus, Ståle Storløkken, Kristoffer Lo and Marius Neset.  
 
The orchestra belongs to the Mid-Norway Centre of Jazz who initiates and organises new projects. The orchestra is operated as a musicians' pool, so that the orchestra changes as to instrumentation and size from project to project. This gives room for great width in the repertory. The musicians that has been involved in the orchestra is among Norway's most famous jazz profiles.
For this particular Wood and Water project, Eirik wrote some sketches and Siri some lyrics, and then the ensemble improvised much of the material that ended up to be this record.